This shop has been compensated by Collective Bias, Inc. and its advertiser. All opinions are mine alone. #MerrySpritzmas #CollectiveBias
With the holidays fast approaching, I'm trying to get ahead of the game and while I'm almost done my holiday shopping. I have a few odds and ends I still need to tie up. One of those is a few hostess gifts. While we do most of the holiday entertaining at our house, there are a few events we're going to and truthfully, I can't wait to go and enjoy myself and not worry about cooking, cleanup and all that fun stuff. Instead, I just need to order a dessert and put together a fun hostess gift. I'm always on the lookout for fun, not-your-typical hostess gift ideas. Gifts that may entice a laugh or two are my favorite ones. So I couldn't turn down the opportunity to showcase these fun Poo~Pourri products and turn them into a fun (and extremely useful) hostess gift.
In fact, I'm loving these so much, everyone on my list just might be getting these as a stocking stuffer this year.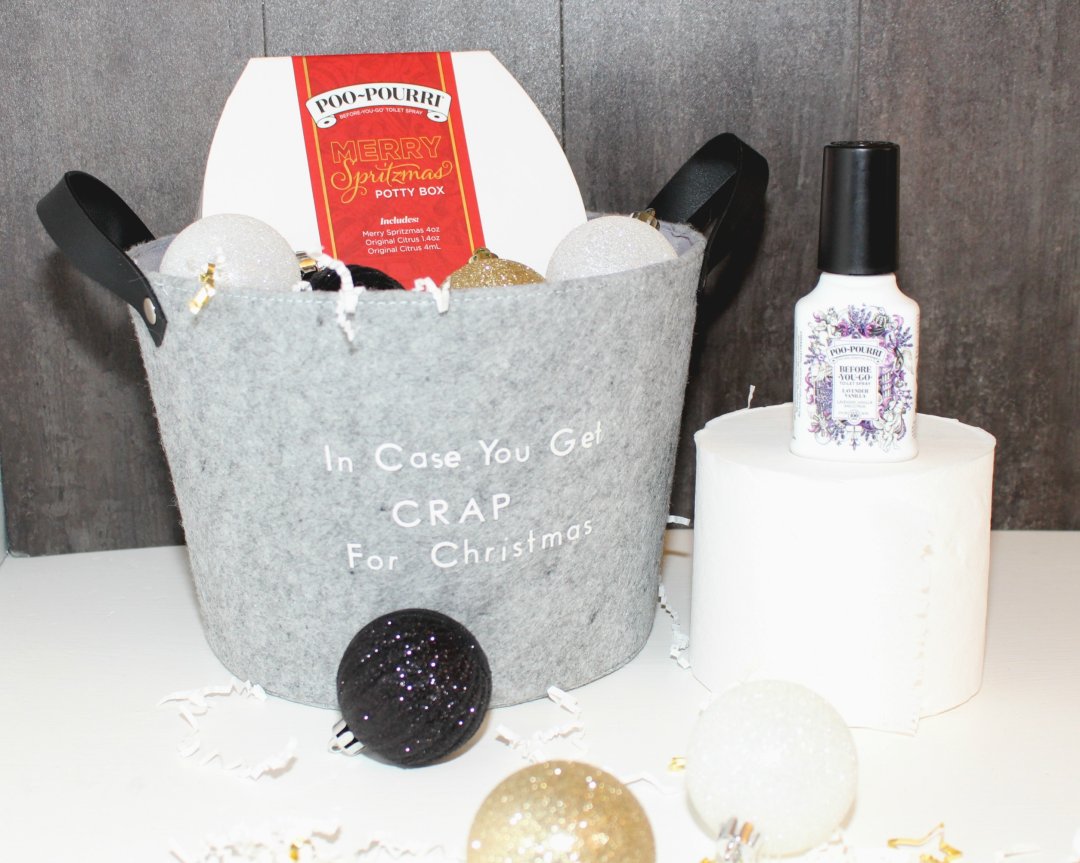 Everything in the gift basket is something practical that any hostess can use during the holiday season and if they're doing a lot of entertaining, will be thrilled with. Like a few rolls of toilet paper (can you ever have enough?), the Poo~Pourri Holiday Gift Set, a bottle of Poo~Pourri in Lavender Vanilla and a cute little basket that can be re-used anywhere in her house. Click on the photo above and you can easily purchase these Poo~Pourri products right from Bed Bath and Beyond to create your own hostess gift.
I used my Cricut to personalize the front of the basket with a funny saying but don't fret if you don't have access to a machine, scrapbooking stickers will work too!
Then I filled the basket with some gold and white paper grass, added in the toilet paper and the Poo~Pourri Gift Set. I just love how the box it shaped like a toilet! Seriosuly! How fun is that?
I'm thrilled with how it turned out and I cannot wait to deliver it next week. While I've heard of Poo~Pourri before, this was the first time I actually bought it. I even picked up some for my house. I have a bottle in each bathroom because, quite frankly, we all have to poo so why not leave behind a nice scent instead of …….well you know.
My two favorites are the Merry Spritzmas® and the Lavender Vanilla, because I love just about everything lavender. The Merry Spritzmas® leaves your porcelain sleigh smelling better than you found it with just a spritz. The scent is a blend of peppermint, vanilla and citrus natural essential oils that eliminate bathroom odor before it begins by creating a barrier right on the surface of the water. Of course, I had to try this for myself and let me just say, smelling is believing.
This stuff works ya'll and it leaves the bathroom smelling so fresh. I placed a bottle in each of my bathrooms because let's be honest, it's never fun walking in the bathroom after someone takes a poo. Now, none of my guests have to feel uncomfortable when they need to use the bathroom. Poo~Pourri has got their back!
So what exactly is Poo~Pourri you're probably wondering. Well, Poo~Pourri is a natural product made with essential oils. You simply spritz the Poo~Pourri into the toilet bowl before you go. The Poo~Pourri's pure blend of natural essential oils creates a film on the surface of the water. This barrier traps the odors under the surface so all you smell is a refreshing bouquet of natural essentials oils.
There's a reason Poo~Pourri has over 5,000 5-star reviews and over 40MM bottles sold – this stuff works!
You can easily shop the image above (just click on it) or head on into your local Bed Bath and Beyond to pick some up for yourself. My store had a nice display right up front by the. registers and another in the bath section. If you head in-store, don't forget to look for specials on Bed Bath and Beyond's website to use on one item!
Poo~Pourri, the Before-You-Go® Toilet Spray Poo~Pourri, the Before-You-Go® Toilet Spray makes the perfect stocking stuffer this holiday season!
Dawn
Wanna make this hostess gift for someone you know? PIN IT for later: