I have received information and materials from ©Johnson & Johnson Consumer Inc. 2017.The opinions stated are my own. This is a sponsored post. #ForBetterTomorrows #BetterTomorrows #FallBack #CollectiveBias
When it comes to sleep, I've always been a light sleeper. I know how important a good night's sleep is and I do my best to make sure my body gets that every day. As with everything, some days are easier than others. We're pretty active during the day whether we're on a trip exploring or just me chasing the kids around all day and minor aches and pains have a way of finding me just when I'm ready to settle down for the night. To help ensure I still get that good night's sleep, I use my homemade lavender bath salts and these easy tips for a better night's sleep.
On any typical day, I'm carrying my toddler around, lugging groceries, working on projects around the house and in between all that trying to fit in my daily exercise or walks around the neighborhood. All that action can leave me sore and achy so after I get the kids in bed, my new favorite way to unwind is a nice warm bath. I combine that with these other tips and TYLENOL® PM for a good night's sleep. You can even hover over the TYLENOL® PM in the picture below to shop right from the photo!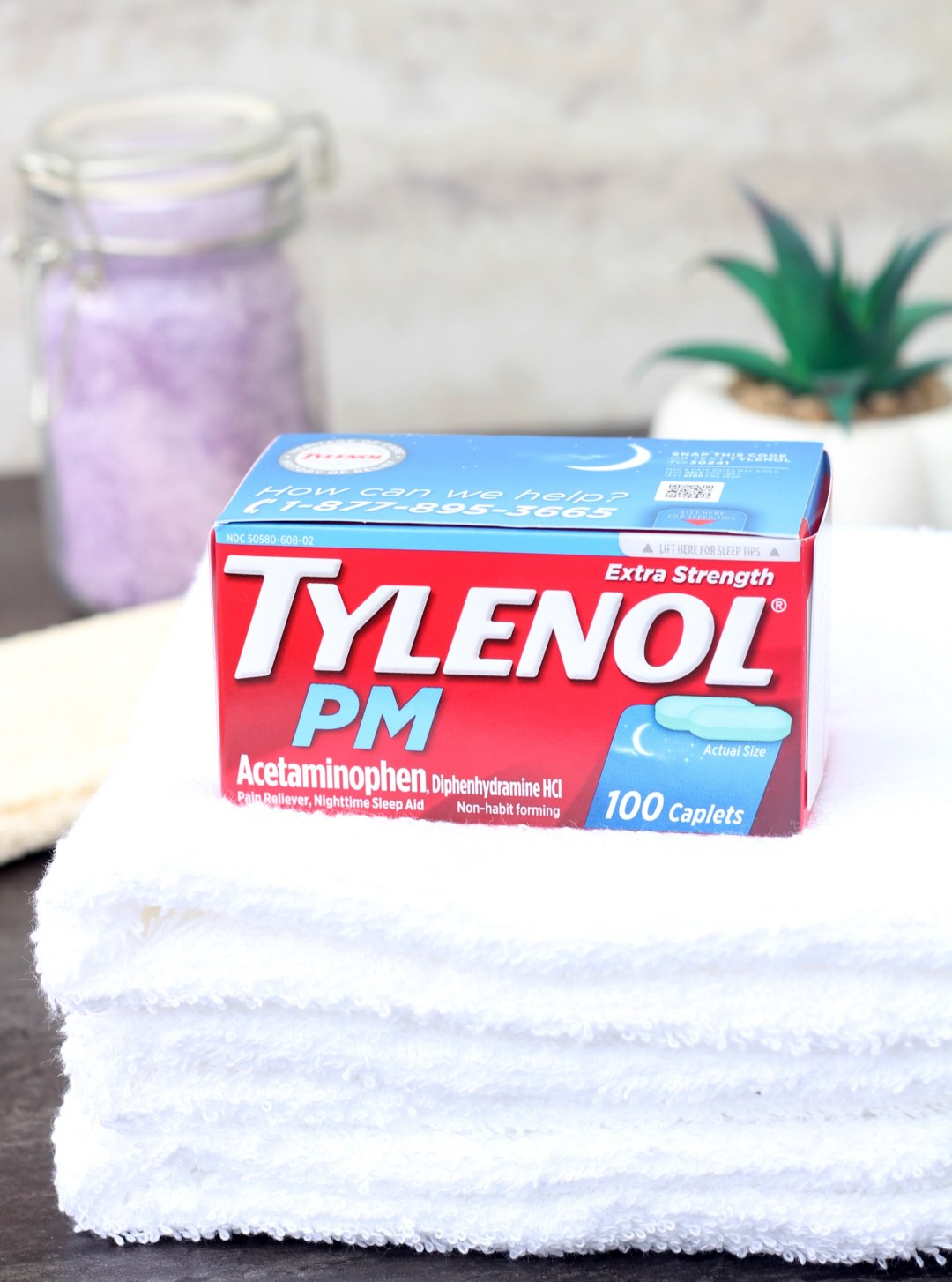 TAKE A RELAXING BATH
Truth be told, I just recently started taking baths. The tub was reserved for the kids, I stuck with showers since it's all I really had time for. A few weeks ago, I took a nice, long, bath and it was so relaxing that I made it a priority to do it a few times a week. That's quickly turned into an almost nightly thing for me now.
I find it so relaxing to unwind and let the stresses float away. It feels so good on my achy muscles and the lavender smell from the bath salts is just so relaxing.  Not to mention, it's so easy to make your own bath salts. You just need:
Epsom Salts
Lavender Essential Oil
Purple Soap Dye (optional)
In a large bowl, I add 8-10 drops of the essential oils (you can use more or less depending on how heavily scented you want it.) and a few drops of the purple soap dye for a little color. Mix together and pour into a cute jar to display in your bathroom until you're ready to use them. They even make a great gift idea.
When I get out, I'm truly ready for bed. But not before I turn off the phones.
UNWIND WITH NO SCREEN TIME
This is a big one for me. Especially with the type of work I do. I'm always plugged in. Now I make sure my work is done by a certain time each night and that's it. Phone, computer, tablet, it's all off until morning. This was after my bath I can truly head to bed and not be distracted by so many other things going on.
TYLENOL® PM FOR ACHES AND PAINS
I can't forget about my secret weapon for aches and pains, TYLENOL® PM  (use only directed). TYLENOL® is collaborating with Walgreens to help combat sleepless nights. Did you know that sleeplessness is the primary issue these consumers face? Pain adds a layer of complexity to sleepless nights but thankfully, TYLENOL® PM relieves those minor aches and pains while helping you fall asleep.With daylight savings on November 5, days are shorter, which means making the most of the day is ever important. We welcome you to share tips on how to master sleep in order to get most out of the day and how a good night's sleep positively impacts your mental and physical well-being
Now that daylight savings is here, days are shorter, which means making the most of my days is important so a good night's sleep is as important as ever. I don't want to waste the daylight hours because of a bad night's sleep caused by pain. With  TYLENOL® PM,  I can get a good night's rest so I can face my days head on.
Right now at Walgreens TYLENOL® PM 100 count is on sale for $11.99 (that's a $1.50 off with Walgreens card) valid 11/5-11/11.
 LIKE THIS POST? PIN IT FOR LATER:
TYLENOL® PM contains a pain reliever and nighttime sleep aid. ©Johnson & Johnson Consumer Inc. 2017 The third party trademarks used herein are trademarks of their respective owners.